Welcome to Party in Your PJ's #2. Thank you to everyone who linked up last week, there were so many wonderful posts you shared here.
While Melissa and I are having lots of fun, it is a learning experience for us both. We are still trying to figure out how to promote the party, how to share links on social media, how to break down the pinning and commenting and all that fun technical stuff that makes for a successful Link Party.
So if we make minor changes, or even mistakes, please hang in there with us, we are learning. We love comments, and suggestions, so if you have any for us, please feel free to share them. What do you link in link parties? What makes you want to join a link party? Why do you join link parties? Do you visit link parties even if you have nothing to link. Give us your opinion!
Party in Your PJs is a weekly, anything goes, link party. From recipes, to crafts, DIY projects, tutorials, printables and a variety of other posts you'll not only get to show off your great work, but you'll find plenty of inspiration. Who doesn't want to strut their stuff and be inspired all at the same time? You'll only need to link up at ONE blog and your link will be seen on both blogs. The party starts every Thursday at 7:00pm CST and ends on Tuesday at 7:00pm CST. We hope you'll join us and make this a great party!
Features
These Train Themed cookies from Marci of
Suzy Social worker by day....Betty Crocker at Night
, are
so cute. I am been a
stalker
fan of Marci's for a long time.
Her wicked sense of humor makes me laugh every time I read her blog,
and she make the cutest cookies too!
I have a confession to make..I am not much of a cook. I love to bake, but cooking, well
I am not a fan. Shareba of
In Search of Yummy-ness
, and I have
struck a deal...she is going to cook for me....I am going to bake for her.
Sounds perfect, right? We ran into a snag when we realized that we live
thousands of miles away from each other. So...the meal would be cold, and the cookies would be
stale. BUT..she shares wonderful recipes on her blog, like this Chicken Satay Noodle Bowl,
so maybe I can learn to cook for myself.
I am a big fan of anything Lemon.
These Double Lemon Cheesecake Bars from
Party Kitchen
, are
right up my alley! Look at this picture closely...do you see that I see?
It is a Sweet Stacker! I had no idea such a thing even existed, but
I will be ordering one soon. Make sure you head over to her
blog to find out all about it!
Do you know what Anzac Day is?
Don't feel bad, I did not either, but thanks to
Joanne of
What's on the List
,
I do now.
I am going to make you click over to her blog to read about
Anzac Day, and these yummy biscotti, but I will tell you
that is has coconut AND maple syrup in them..OMG...YUMMY!
We love to pin! We've created a group board for the party and all the links that follow the rules will be pinned to the board. Since this is our first party the board is empty right now, but be sure to follow it if you would like a new source of inspiration.
Party in Your PJs Link Party Rules

:
Link to a specific post, not your home page.

This is an anything goes party (PG of course, no adult content). Feel free to link up as many of your recipes, crafts, tutorials, printables, DIY projects, ets as you'd like but please make sure that you do not link posts from the previous week. We want to keep this party fresh and fun. Also, please link up to only things that YOU have created.

No Etsy shops, giveaways or business links please. We will delete these types of links

Each week the hosts will pick out their favorites to feature. Be sure to visit both blogs each week to see if you have been featured..

To be featured you must link back to our party somewhere on your blog. We have an amazing button below that you can place in your post or anywhere on your blog. If you prefer you can insert a text link to the party in your blog post or on a link party page.

It is not a party without interaction. Please visit a few of the links and leave a comment. Everyone loves comments!
If you like to party with us we'd love for you display our button on your page.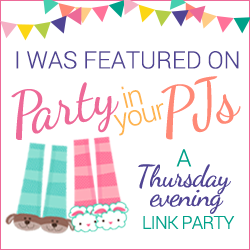 A special thanks to Melanie from
Adorability Designs
for designing our buttons. We love them!