Today, here on The Cookie Puzzle, a super exciting thing(at least for me) is unfolding
before your very eyes! Today, a dream comes true!
I have developed and launched a Link Party with my Best Friend. Ya'll know her, don't you?
For MONTHS, we have been toying with this idea. I would mention it, she was not 'feeling' it....She would mention it, I was in a blogging slump.
THEN...it just came together....it was so easy....NOT!
Have you ever tried to put together a project with a friend? Ya'll, it will TEST YOUR FRIENDSHIP!
There will be hurt feelings, things said, little spats, and lots of compromise. But, in the end, it is SOOOO worth it. To see the fruits of our labor...well, it makes my heart smile.
So...with out further ado....I give to you!
Party in Your PJs is a weekly, anything goes, link party. From recipes, to crafts, DIY projects, tutorials, printables and a variety of other posts you'll not only get to show off your great work, but you'll find plenty of inspiration. Who doesn't want to strut their stuff and be inspired all at the same time? You'll only need to link up at ONE blog and your link will be seen on both blogs. The party starts every Thursday at 7:00pm CST and ends on Tuesday at 7:00pm CST. We hope you'll join us and make this a great party!
We love to pin! We've created a group board for the party and all the links that follow the rules will be pinned to the board. Since this is our first party the board is empty right now, but be sure to follow it if you would like a new source of inspiration.
Party in Your PJs Link Party Rules

:
Link to a specific post, not your home page.

This is an anything goes party (PG of course, no adult content). Feel free to link up as many of your recipes, crafts, tutorials, printables, DIY projects, ets as you'd like but please make sure that you do not link posts from the previous week. We want to keep this party fresh and fun. Also, please link up to only things that YOU have created.

No Etsy shops, giveaways or business links please. We will delete these types of links

Each week the hosts will pick out their favorites to feature. Be sure to visit both blogs each week to see if you have been featured..

To be featured you must link back to our party somewhere on your blog. We have an amazing button below that you can place in your post or anywhere on your blog. If you prefer you can insert a text link to the party in your blog post or on a link party page.

It is not a party without interaction. Please visit a few of the links and leave a comment. Everyone loves comments!
If you like to party with us we'd love for you display our button on your page.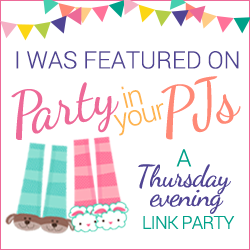 A special thanks to Melanie from
Adorability Designs
for designing our buttons. We love them!